Peter Erlacher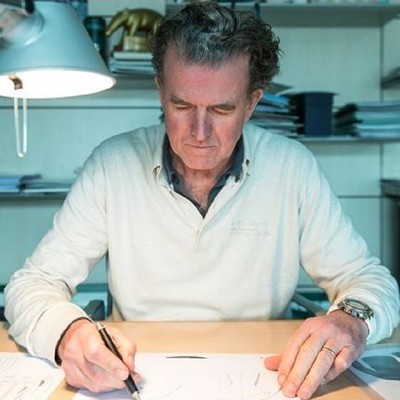 Co Owner and Chief Design Officer Chervò
Peter Erlacher began his career as a professional athlete, both part of the Italian national ski team as a skier and later as a coach. He considered golf to be a snobby pastime for elderly people, that is, until he was intrigued by the opportunity to try it for himself.

In 1987, Peter Erlacher, after a few rounds of hitting balls around the course, realized that the challenge the game posed for him was causing him to reconsider his stance.
Peter Erlacher was already a co-owner of Chervò, which, at the time, was a successful outdoor skiwear business—derived from his passion for skiing. Noticing that his fellow golfers would come to the green dressed in outdated, worn clothing that allowed for freedom of movement, Erlacher saw an opportunity.

Given his awareness of innovations in sports clothing during the 80s, he was uniquely prepared to pioneer a trend for a golf clothing line, similar to what he'd accomplished with his ski and outdoor lines. Golf, after all, was a sport played outdoors for many hours on end at all times of the year, and sometimes under extreme weather conditions. Without conducting any market research, Erlacher decided to enter the golf business.

The first product he introduced revolutionized the golf experience—rainwear. Since golf games often do not stop due to rain, the existing rain gear was too noisy and interrupted a golfer's smooth swing. Enter, the Chervò AcquaBlock technology. Erlacher developed a fabric that was light, silent, and yet fully waterproof and breathable. The product rocked the industry and catapulted Chervò, and Erlacher, to success in golf.
Select the day that you prefer
Find the event interested
20 OCTOBER | 14:30 - 15:30
Fimast Arena