Barbara Visani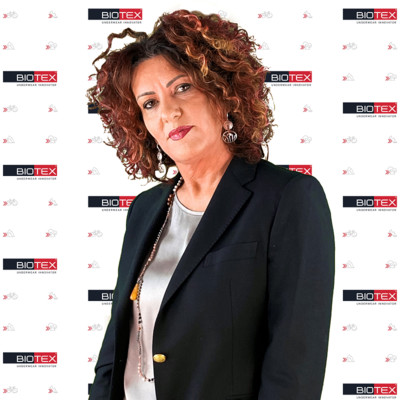 Owner BIOTEX Innovator Sport Underwear
Barbara Visani, born in Faenza in 1970, graduated in economics in Bologna and continued with a master's degree in business training in Milan. The road to consultancy seems to have almost begun when the father starts with a new production of woolen underwear.

The first years were dedicated to the study of the market and analysis of the competition, starting from the world of thermal underwear, passing through the everyday one and arriving at technical underwear for sports.
This way in 1999 Biotex Srl, of which Barbara is CEO, was born.
The corporate mission of Biotex Srl has always been the creation of garments and fabrics for the well-being of people and to improve the functionality of the body in movement.

As pioneers of the market, Biotex numbers were small at the beginning but the choice was immediately specialization in the world of cycling.
From the 2000s until today, competitors have increased but the market has also expanded and become vast and interesting.
The specialization towards the first layer, the one in contact with the skin, remains Biotex focus, from head to toe Biotex is always with you.
Select the day that you prefer
Find the event interested
20 OCTOBER | 15:30 - 16:30
Fimast Arena